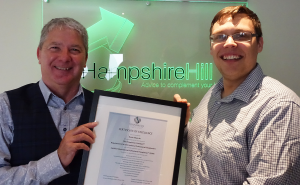 Hampshire Hill Group Limited, is delighted to have the first paraplanner to be accredited with The Paraplanner Standard, Reece Edwards as a member of their team.
Although not a role people will necessarily know about unless working within financial services, a paraplanner is critical within a firm of financial advisers such as Hampshire Hill. 'A good paraplanner takes the data advisers have collected from clients and uses bespoke software and their financial market knowledge to find the various options the financial advisers and clients can consider' explains Reece. The position requires an excellent insight in to the financial market, the variety of products and services available and a detailed understanding of changes which may be on the horizon. A good relationship with service providers and contacts within the industry is also essential.
The Paraplanner Standard is issued by Standards International, the accreditation body for ISO and British Standards (BS) in financial services, and the assessment involved two key areas of the paraplanner role; soft skills and technical. Reece, who has been working at Hampshire Hill for the past 4 years, demonstrated an outstanding level of knowledge accompanied by a keen eye for detail.
The assessment process was rigorous and didn't just focus on Reece's knowledge but also included the assessor drilling down to his personal traits, skills and views. Reece commented 'The process meant I really assessed my personal approach, skill set and thoughts which was an eye-opening experience. I thought I knew my approach to work quite well, but this gave me a great insight in to my thought process and the way I handle the various elements of the role'.
Feedback from the International Standards assessor Michelle Hoskin was impressive "Reece is an amazing example of what a true professional paraplanner is. His hard work, creative thinking and professional approach to is role is outstanding." Michelle also carefully reviewed a selection of Reece's client files to confirm he works to the high standards the accreditation requires and he passed with flying colours.
Established in 2001, Hampshire Hill is regulated by the Financial Conduct Authority but also chooses to go through other accreditation processes to reassure their clients of the standard the business works to. The firm is BS 85777 certified and all the investment advisers are accredited to ISO 22222. Training, development and a commitment to clients is what drives the business and makes this firm stand out from others in the market.
Richard Hampshire, Managing Director at Hampshire Hill Group said 'It's not often a small business like ours is able to have a team member being the first to achieve such an accreditation. We certainly feel it's something to celebrate and I couldn't be more thrilled on Reece's achievement. It just proves that you don't need to use a large London firm to benefit from the best people and knowledge; we have it all here in Kirkby."